Xteme Warrior Tag is great for birthday parties, bachelor/ette parties, school events, church events, corporate events/team building, and fundraisers.  Perfect for all ages and any celebrations BOOK TODAY for an unforgettable experience.
We supply your guest with a high-tech laser tag system. Our lightweight taggers feature a red dot scope for pinpoint accuracy. There are no bulky or hot vests making Xtreme Warrior Tag perfect for kids and adults. Every event comes with game coaches/referees to tailor games to match the level of experience of your guests. We can upgrade your event with the head sensor option. This will enhance the difficulty and add a life-like experience. Our inflatable bunkers will transform your yard, park, or gym into a real-life video game.
Every party includes game coaches/referees to coordinate fun and exciting games, such as:
Free for All
Capture the Flag
Captain
VIP
Adults vs. Kids
Invasion
Domination
Zombies
& Much More!
Birthday Parties
Let us celebrate the big day with you. The birthday boy or girl will be the VIP with high octane fun and unforgettable memories. You will be the hero for booking a party where the sugar is worked out with activity. Our game coaches will come early, set up, and run the games. So just put your feet up and relax. Our intelligent technology can provide a multitude of games making Xtreme Warrior Tag perfect for the guest of honor.
Corporate Events
Make your next celebration or holiday party Xtreme! You can use team exercises and competition to build unity with fun games. A different office party that will be the talk of your company. Our laser tag system can be set to incorporate all levels of experience. 
Extreme Warrior Tag will provide your team or clients with a fun-filled experience. Your team or clients can let loose and enjoy themselves. Bring people together with Xtreme activity.
Fund Raisers
Please contact us for details for your Band, Athletic, or School fundraisers
Bachelor/ette Parties / Engagement Parties
A night to remember and celebrate one of the biggest days of your life. Play separate or together for your unconventional pre-marriage counseling. A night to remember to celebrate a day you won't forget.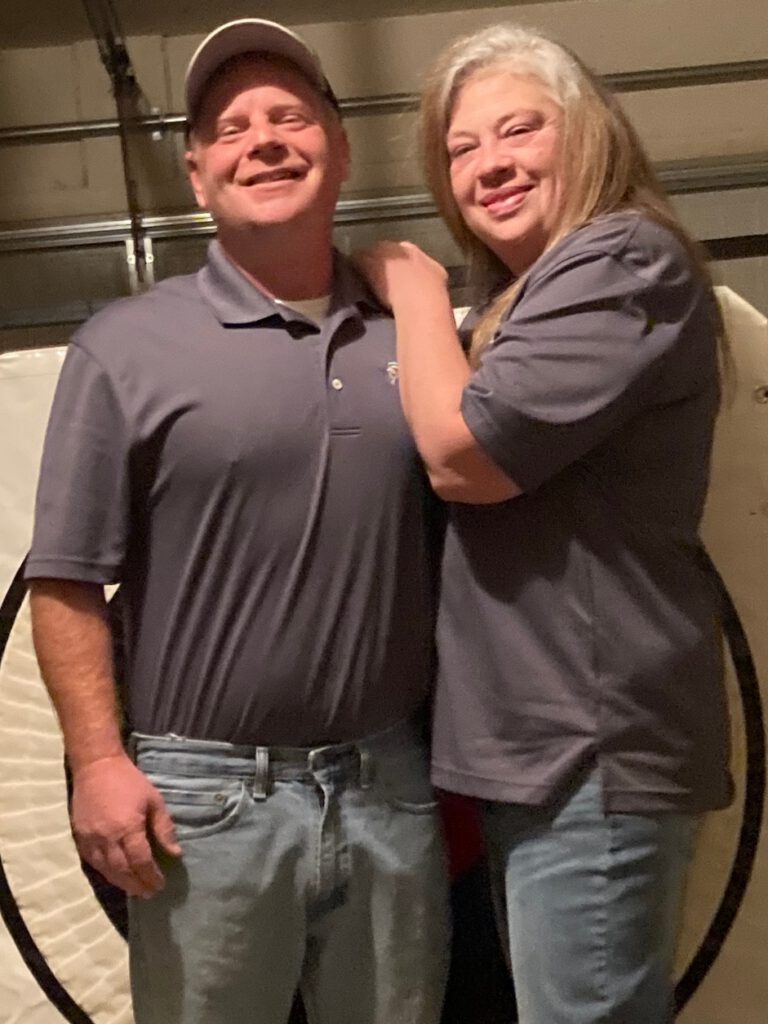 June and Chad have been married for over 25 years They enjoy playing Archery Tag, Laser Tag, and Archery Games (of course). They also enjoy attending Atlanta Braves games and vacations at the beach. Most of all, they just love spending time together.
June is from Vestavia Hills and Chad is from the Leeds area. Although no living kids of their own, (except for the four legged kind) everyone else's kids call them Uncle Chad and Aunt June, honorary titles they adore. With extensive careers in retail and banking, they wanted to change careers where everyone wanted to see them arrive and hated to see them leave.
They manage the controlled chaos like pros and leave your kids with the best party ever!
When you call to book please ask for Chad, June, Black Widow, Hawkeye, General Obi Wan Kenobi or The Clone Trooper!